Pest Control Service and Management Company
Make Us Your First Choice, Us Against Pests!
Mosquitoes Control Treatment
Over a decade of experience in providing top-quality and environmentally friendly pest control services, tailored to your needs. We are the premier pest solution for all – F&B, hospitality, residential, industrial, commercial, and educational.
We take pride in the quality of work done by our friendly and experienced staff members, who will always put the needs of our clients first. We are always one call away and we pledge to serve you as soon as our next Specialist is available.
No more waiting – First Choice Pest Specialist to your rescue!
Certificates & Accreditations
Our clients' priority is protecting their loved ones – and so is ours. Upon engaging us, we will perform a detailed pest diagnosis and identify the cause of your concerns. This will be followed by a minimally toxic, highly effective pest eradication treatment.
We avoid providing standard pest management packages – we always make sure to inspect the premises first so that we can provide careful and precise recommendations. We are dedicated to ensuring that your beautiful home remains a place for you – and only you. No more uninvited guests!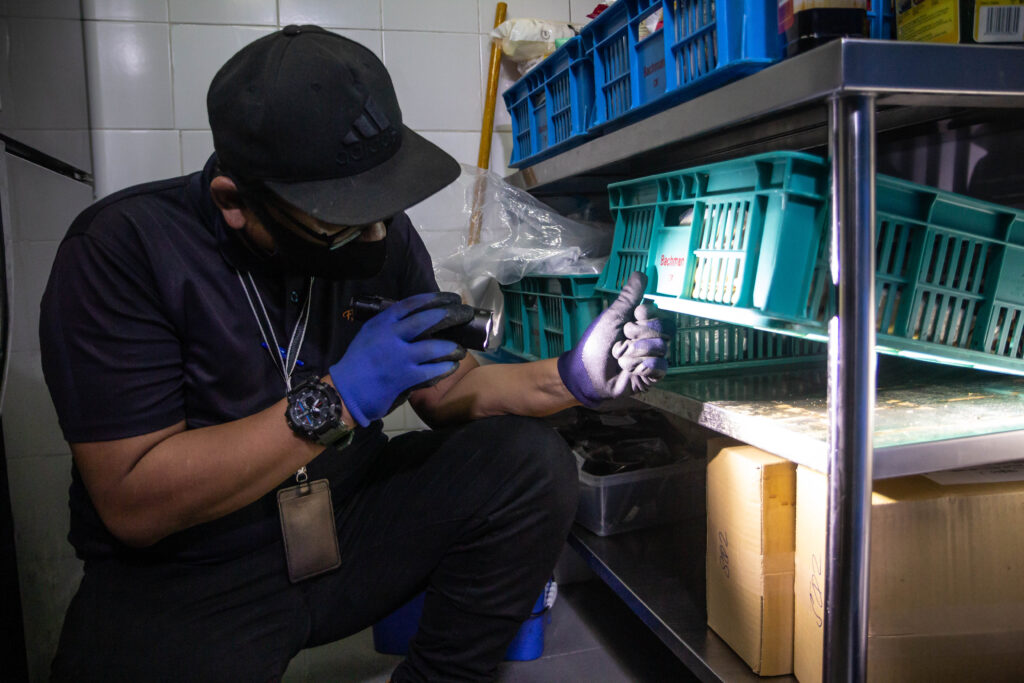 We are highly adept at keeping your business premises safe for work and pest-free. Say goodbye to ill health, say hello to productivity!
Because of the different nuances in hygiene requirements across a diverse spread of industries, we do not adopt a one-solution-fits-all approach. Our specialists will customize cost-effective pest management solutions to suit your specific needs and high expectations. 
Protect your brand name and reputation – never fail a pest inspection again!
Why Choose us for Pest Control Services in Singapore?
We are professionals in home pest control Singapore we've been in the Singapore pest control business for a long time and know what works and what doesn't. We employ tried-and-true procedures that are safe for your family, pets, and the environment. We only utilize the greatest items on the market today, and we have access to every resource that is available. This means that we can treat your property with whatever solution is required to eliminate any sort of insect problem you may be experiencing. That's why we are the best pest control company in Singapore!
We have experience working with all types of pests
Our professionals have experience dealing with a wide range of pests, including
rats
, mice, roaches,
ants
,
flies
& ticks, bees, and even spiders. During the summer, when mosquitoes may be a major nuisance around your house or company, we also provide
mosquito control services
.
Our Service is Cost-Effective
You don't have to spend a huge amount of money on pest control services. We offer our services with the best pest control Singapore price as compared to other firms in town that charge more but don't deliver better service quality than us. We guarantee your delight! If you are dissatisfied with our pest control services, we will return and re-service your house at no additional cost.
Our Customer Service is Amazing
We offer fantastic customer service. Our highly educated experts are kind, professional, and considerate of your time. They will arrive on schedule and work promptly to do the task correctly so that you can return to enjoying your house or business. Our pest control service Singapore is appreciated by our customers. Read our testimonials to see yourself!
Home Pest Control Singapore Process
Identify The Issue
The first step in any pest management Singapore program is to identify the pest problem. It entails determining the type of pest and the severity of the infestation.
Prevention
Prevention is always preferable to treatment, and it will save you money. You may prevent pests from infiltrating your house or company by sealing gaps and crevices, eliminating sources of food, water, and shelter for pests, employing traps, and so on. If you are already afflicted with pests, you must apply a chemical treatment to eliminate them before they grow further.
Sanitation
Sanitation is vital because it helps to avoid infestation by removing insect breeding areas. Cleaning up after oneself is also part of sanitation so that food crumbs or other food items do not attract unwelcome guests into your house or office. Moreover, cleanliness entails keeping plants adequately irrigated so that they do not wilt away, leaving behind dead leaves that might serve as breeding sites for
termites
or other damaging insects. Opting for pest control services in Singapore can relieve you from all these efforts!
Our Range of Pest Control Service in Singapore
Pest Control Services
Disinfection Services
Termites Treatment
Bed Bugs Treatment
Cockroach Treatment
Rodents Treatment
Mosquitoes Control Treatment
Our Dedicated Team of Exterminators
The First Choice Pest Specialist team possesses the technical knowledge required in pest management. Our staff is committed to providing quality customer service and is well-equipped to address any pest-related issues. Our friendly team will attentively listen to your concerns regarding pests and provide you with the best pest control in Singapore, creating a comfortable and pest-free environment for you.
Quality Solution for Pest Management in Singapore
First Choice Pest Specialist stands as a trustworthy pest control company in Singapore. We offer quality pest management services at competitive rates to address any pest-related problems. We understand that pest infestations can lead to problems such as health issues or food contamination if left unattended. Hence, our pest management solutions aim to make your home or workplace a better environment to stay in.
Pest Control in Singapore Price
For all your pest control requirements, reach out to the First Choice Pest Specialist team. Contact us at +65 6784 1110 to discuss your needs and the pricing of our services.
Frequently Asked Questions (FAQ)
I faced both termite and bedbug infestation at my home. Initially, I was reluctant to engage First Choice because they were slightly more expensive than the other pest control companies. However, after several companies failed to resolve my problems, I have decided to engage them. Surprisingly, they were able to resolve the issue very quickly. It was definitely worth the higher price tag. Highly recommended to anyone facing any pest issues.
Timothy Tay
Home Owner
Moved office to Novena and engaged First Choice for our inspection, and found out that there were some pest issues. They efficiently treated the problems and now we are pests free. The Sales Manager is very sincere too and not pushy. Thumbs up and recommend!
Hafiz Bob
Business Owner
We have been using First Choice Pest Specialist for many years. They have always keep their service quality to the highest standard. The technicians are all very knowledgeable and professional. Thank you Raymond from the ops team for always being responsive to my pest issues. Overall, I am very satisfied with their service.
Fabian Toh
F&B Owner
I am pleased to express my appreciation for your services rendered this morning. Even though I called you very last minute, due to NEA building inspection, you were able to come down to help us deal with queries from NEA office. You manage to use preventive measures to eliminate the rodent infestation with quick response, thank you.
Joanna Ang
Food Production Manager
I would like to congratulate First Choice Pest Specialist Pte Ltd on a job well done. Upon completion of the work done, we have seen a drastic improvement in comparison to other companies' work…. We look forward to working together again and having a long lasting business relationship.
Julia Lim
F&B Owner
I would like to thank First Choice Pest Specialist Pte Ltd for your job well done after all these years being our pest control contractor for all our F&B outlets…. In view of the overall performance and dedications by First Choice Pest Specialist Pte Ltd, I am confident that your company will continue to suceed and thrive in years to come.
Dave Kwok
Owner of Rental Properties